Last Fall I attended a lunch reception in Los Angeles hosted by Joe Biden and was asked by an organizer what his campaign could do to attract more young voters like myself. The demographics in the house were a stark contrast to a similar reception I attended months prior with Cory Booker.
I definitely felt young at the Biden event, though compared to the U.S. voter population, I am middle aged. In the upcoming U.S. presidential election, less than 90 days from now, 37% of the eligible voters are Millennials or part of Generation Z, according to the Pew Research Center. Gen Z alone is now 10% of the eligible voter population, up from 4% in 2016.
The question in my mind at the time was less about what Mr. Biden could do to resonate with me, and more about how he and other candidates are resonating with voters under 40 years of age. In the brief time I had with Senator Booker, I asked him how he was planning to connect with young voters who were not tuning in to Rachel Maddow on MSNBC or the Sunday morning shows on the broadcast and cable news channels. He looked perplexed, and asked his staff to give me his business card to follow up. I did, and never heard back.
In the 2016 U.S. election, 51% of citizens aged 18-24 registered to vote, though only 39% turned up to the polls, according to the U.S. Census Bureau. The discrepancy was pronounced in Michigan and Texas, two of the eight battleground states in 2020. The 18-29 age voter block has never had more than 50% of eligible voters cast a ballot in a presidential election since the early 1980s.
Will this change in 2020 as U.S. college students continue to see their studies disrupted by COVID-19, and recent graduates find companies postponing or rescinding employment offers? How much of their drive to register to vote depends on how they receive their news?
In the last 15 years as YouTube has grown to critical mass in the U.S. and around the world with over 1 billion daily users, I have seen a number of industries impacted by creators on the platform. Musicians once reliant on MTV for cultural and social currency do that today through digital platforms. Twitch and YouTube creators heavily impact the revenue of games like Fortnite and Free Fire with their let's play videos. Fitness, beauty, and the advertising industry all lean into creators who bootstrapped their way to growing massive communities and fervent fan bases. The kind of fans that would vote if there was an option.
There is a playbook to organically grow reach and community on a platform like YouTube. One has to invest time and money, but far less than the $365 million Mr. Biden and President Trump plan to spend on television advertising between September 1 and Election Day (or the $22 million in YouTube ads the Democratic National Committee plans to spend in the same period). Video of a Presidential candidate has been an important factor since the 1960 race, and there are many consultants to advise candidates on the sound bites important for live television and cable news. How big are the two candidate's YouTube teams focused on organic reach and community building? It seems very small, or very ineffective.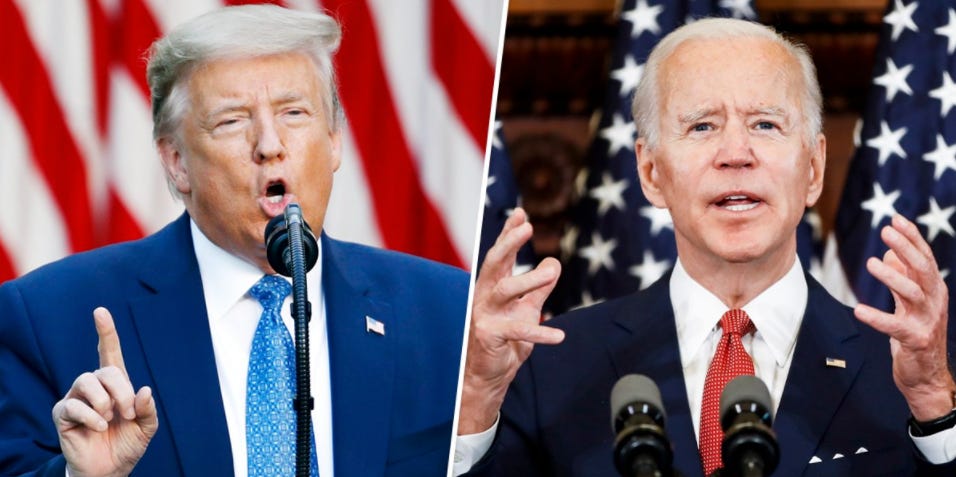 In May 2020, Mr. Biden drove most of his online video consumption on Twitter (64% of total), while President Trump saw the most consumption on Facebook (39% of total), based on data I analyzed from each of the platforms. May was the month in which Twitter fact-checked the President and in June, Facebook started banning certain Trump campaign ads for violating its policy against organized hate.

In June 2020, President Trump posted 37% less videos to Twitter, though he saw his views jump 58% MoM. His team flooded the zone with 205 YouTube videos (up 197% MoM). Very few seemed to resonate with viewers. Mr. Biden's June total on YouTube is skewed by a single video boosted by paid advertising.

In July 2020, President Trump's team tried the volume game again on YouTube with 555 uploads (up 171% MoM). Total views were flat MoM, and half of the total was generated from videos uploaded prior to July 1. Mr. Biden's campaign is finding more success with short-form videos on Twitter and Instagram, with an average of 955k and 504k views per upload, respectively. His YouTube average view count is up 250% since May, though only at 232k per video.

How is it that a major candidate for the U.S. Presidency can only average 17,167 new subscribers to his YouTube channel per month in the last three months? It is the biggest video platform, and roughly 70-80% of all U.S. Internet users under 35 are consuming content on the platform each quarter. Is this in any way an indicator of how these voters, nearly 40% of the total electorate, will show up on November 3?
It is estimated that 75% of Mr. Biden's audience on YouTube is male, and 35% are 18-34 years of age. Similar gender and age skew for President Trump. More than half of young voters in 2016 were women. Should both camps figure out how creators before them on YouTube have bridged the gender divide before it is too late?
As any prominent IP owner knows about YouTube, the views on the official channel are one thing. User uploaded content is another thing.
In July 2020, if the objective was to drive clicks and views to your channel, you would see the same result with an average of 28,000 YouTube views per upload on content featuring Mr. Biden or President Trump. The difference in the YouTube view count is the nearly three fold gap in people uploading content about President Trump.

In 2016, President Trump benefited from two times more screen time on nightly news broadcasts than his rival Hillary Clinton. That was dictated by news editors. Now it is the user community driving the content and watch time.

Cable News and Online News
The cable news landscape on YouTube is similar to TV ratings, in the fact that Fox News leads the group in total views in July 2020.

Outside of the repurposing of television news for YouTube, there are several creators who have used the platform to build an audience and business. In July 2020, Brian Tyler Cohen's daily political news digests and interviews with politicians like Senator Kamala Harris, is representative of a channel on YouTube that resonates quite well with 18-34 year old viewers.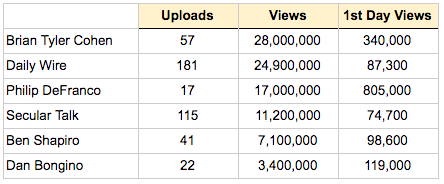 Ben Shapiro and Dan Bongino had 101 videos uploaded in July (41% of their total) sponsored by brands such as ExpressVPN, Blinksale and Raycon. Philip DeFranco's news show had Raycon, Omax Health, Ting and Bright Cellars sponsor videos last month. These performance marketing brands help offset a low volume of pre-roll advertising sold by Google against news content.
In the last U.S. political election in 2018, it was reported by Axios that campaigns spent $1.1 billion on cable television advertising. 22% more than digital advertising. What's astounding to me though is the statistic that campaigns spent $2.7 billion on local television advertising. That figure nearly eclipsed the total spent on local television for the 2016 presidential election.
News and politics creators on platforms like YouTube should be seeing a lot more advertising demand in the next two months, and ideally not from the same performance-based marketers.

The Lincoln Project
One political action committee making waves in the U.S. is The Lincoln Project, formed in late 2019 by several prominent current and former individuals associated with the Republican Party. One of the founders of the PAC is married to a counselor of President Trump.
In July 2020, The Lincoln Project generated over 225 million views across the main video platforms, with 55% of their views on Twitter. One third of their YouTube audience is 18-34 years old.
One may think The Lincoln Project is an effective online video booster of President Trump. You would be mistaken. The group prides itself on shining a light on the President's missteps and supposedly causing his campaign to change its staff and daily talking points.
Their content is creating admirers and fans. In Q2 2020, the PAC raised $16.8 million, with 45% of the haul coming from donors who gave less than $200.
Consistent uploads. Unique and authentic voice. Engaged fan base beyond likes and shares. Direct consumer spending / donating. Now they just need to get young, apathetic voters in the battleground states to register to vote before the deadline, and move the group to have a greater than 50% turnout for the first time.
Will we see more creators in the next month use their influence and persuade their fan base to register to vote? Or is it left to PAC's like The Lincoln Project to spur people into action?

Lastly …
In the past week, Hong Kong media tycoon and pro-democracy advocate Jimmy Lai was arrested by Hong Kong police on foreign collusion allegations. The owner of Next Media and Apple Daily is in the crosshairs of the government after it imposed new national security laws in June.
In 2014 when protestors occupied the Central business district in Hong Kong, Mr. Lai's Apple Daily was a primary news source for the world to understand what was occurring on the ground. Denial of service attacks forced Apple Daily to move its live streams to YouTube, and its news became must-watch content for morning commuters on their mobile phones.
Around the same time in India, YouTube's live streaming was being impacted in a different way. A press agency for a politician decided to lodge numerous copyright and community strikes against its opponent so the opponent was no longer able to live stream their speeches and other election content on YouTube.
These two cases from my time living in Asia are reminders of the importance of press freedoms, and the openness of platforms that have become the primary source of information for the general public.