Perennial late night television stalwart Saturday Night Live decamped 30 Rock and had its repertory and featured players try something new on April 11: perform the show from home. The episode garnered 6.6 million television viewers in the 18-49 age demographic, its second-best total of the season after the Eddie Murphy-hosted episode in December.
The episode epitomized to me the progression of creators on YouTube over the past 15 years, and their ability to narrow the quality gap with their broadcast television comedy peers. Devoid of a studio audience yukking it up, the episode delivered on the premonition of host Tom Hanks: several of the sketches were duds.
Main repertory player Chris Redd tweeted his frustration ahead of the show's second At Home airing on April 25.

While 29% of SNL's total viewed minutes during the 2018-19 season came on digital platforms through short-form videos and full-episode views, its budgets are based on its television broadcast. I found it pretty jarring to see how NBC applied its budget in the first At Home attempt, and noticed a marked improvement in production quality in its second airing.
Top creators on YouTube have not appeared to skip a beat during COVID-19 restrictions, as their video output has continually increased month-to-month. US-based creators with at least 5 million subscribers increased upload volume in March 13% MoM, and closed April up 5% MoM.
Brand sponsorship dollars are not following suit. YouTube creators uploading sponsored content decreased 31% MoM in April, and their sponsored video output decreased 35% MoM. The 'influencer' set on Instagram is the opposite. Sponsored influencers are up 15% MoM, and sponsored video posts are up 19% MoM.
Late Night Wars … on YouTube
The weekday late night television lineup has had to go through its own makeover. Home-based sets and remote video interviews are in. I am wondering if the $1 million per week production budgets are in as well, or have those been curtailed?
The Late Show with Stephen Colbert holds the lead in television viewers over his 11:30 p.m. rivals The Tonight Show with Jimmy Fallon and Jimmy Kimmel Live. 6.5 million Americans watch these shows on television, and 8 percent of 18-49 year-olds with a television on at that hour choose to tune into their shows.
Whereas SNL still draws the majority of its viewer engagement on its broadcast airing, the late night shows, and especially those at the 12:30 a.m. time slot, seem to me to be produced for YouTube viewing and monetization. I have never seen Seth Meyers or James Corden in their original format, but regularly find Meyers' A Closer Look and Corden's Carpool Karaoke in my YouTube feed.
Will television network execs rethink their spending on late night television post this COVID-19 environment? A weekly format on HBO like Last Week Tonight with John Oliver or Real Time with Bill Maher would command a $1 million production budget per episode -- before fees for the host.
John Krasinski has masterfully shown what is possible with a budget akin to a YouTube show, and appears to have had far more social impact in the past two months than all of the late night shows combined. Some Good News has quickly surpassed 2 million subscribers and 50 million channel views. More impressive to me is the $5 million in corporate sponsorship it has already generated, the nature of the guests Krasinski has booked for the show, and the way I find it permeating the community around me. One of our portfolio companies provided the technology for the Some Good News prom live stream with Billie Eilish and other musicians. I heard Krasinski handled the production himself, and politely declined any production support. He embodies the ethos of YouTubers, and has come to the scene at just the right time.
YouTube creator turned late night television host Lilly Singh is averaging 700,000 viewers for her 1:30 a.m. broadcast, and capturing 2% of the 18-49 year olds still up and watching broadcast television at that hour. Her share of the audience demographic is not bad in comparison to Fallon's, though her show's performance on YouTube lags far behind her late night peers.
If we looked at each of the late night hosts as creators on YouTube, here is how they would rank in April based on total views to their show's channel: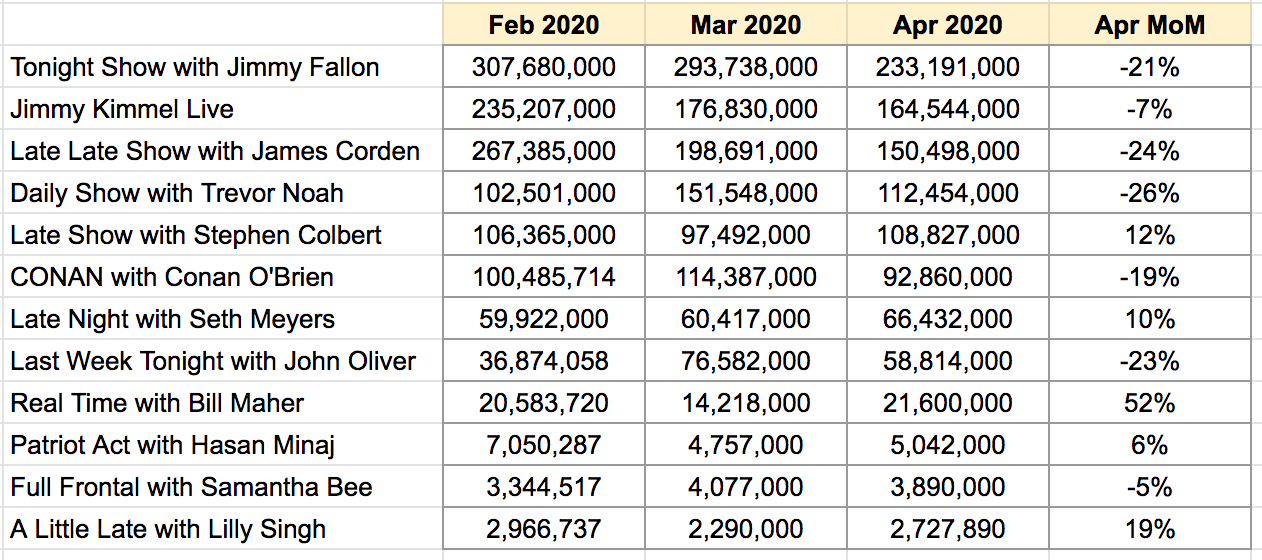 Alumni from Jon Stewart's Daily Show currently occupy five shows, and together they account for 27 percent of the total views in April. Stewart was always fond of saying he is a comedian and not a journalist, though many in the 18-49 age demographic would routinely say they received their news from his show.
When I reviewed the late night shows and filtered for recency, the news-heavy shows performed better than their musical and sketch comedy peers. The Daily Show with Trevor Noah becomes the top ranked show on YouTube, followed by Stephen Colbert's Late Show with content laced with political news commentary.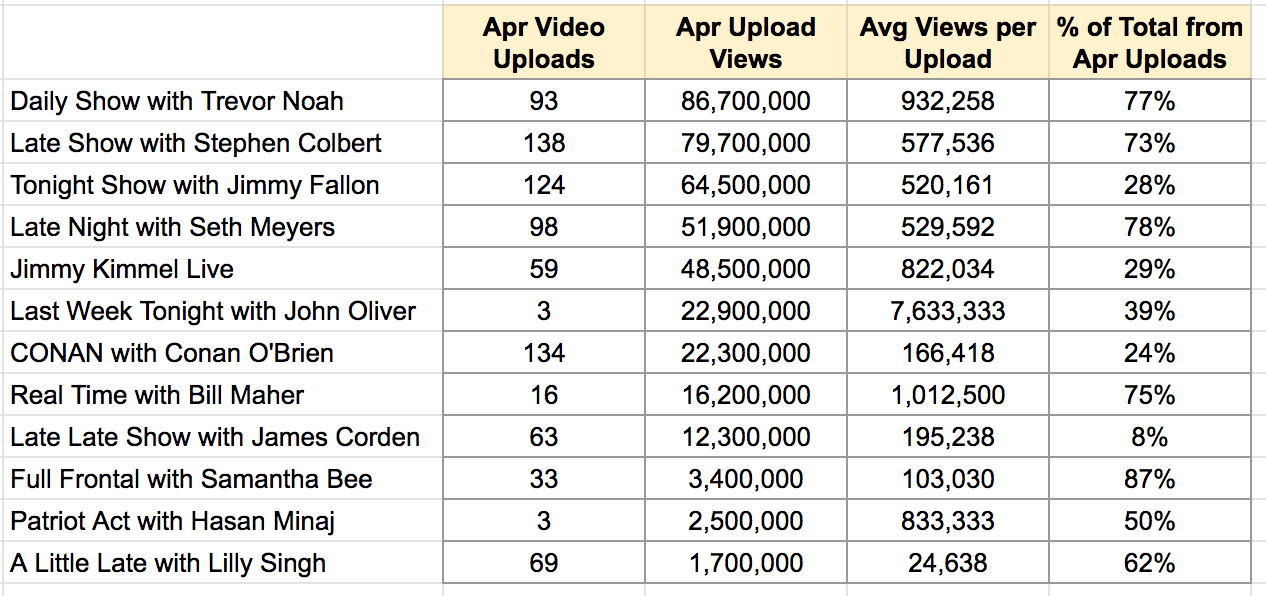 Another item that stuck out to me with this filter is how much Fallon, Kimmel and Corden benefit from a video archive on YouTube. 70-90 percent of their total views in a month come from content uploaded in a prior month.
Krasinski's Some Good News would rank #6 based on his 10 uploads in April generating 31.1 million views in the month. Long-time YouTube creators Rhett & Link's Good Mythical Morning show would rank #8 based on their 13 uploads in April generating over 18 million views.
If one was to follow in Krasinski's footsteps and eschew the broadcast television path, how should they design their program to maximize viewership and commercial returns? Is YouTube still the second window to late night television, or is the late night broadcast merely the prop for a successful YouTube channel?
HBO's Last Week Tonight with John Oliver hit a season high the week of March 23, with 973,000 viewers at its 11 p.m. Sunday night airing. I generally find the show's producers upload its main segment to YouTube before HBO can post the full episode to its own streaming service. The segments routinely fetch 4 to 6 million views in the first 24 hours on YouTube. While it is fun to see Oliver rail against his corporate overlords at AT&T from time to time, he has to be thankful his budgets allow him to staff a team and produce the in-depth material that makes his program an award winning one.
Lastly ...
As much as Netflix's distribution of The Office has to have helped John Krasinski maintain market awareness ahead of his Some Good News launch in March, NBC's decision to upload over 1,000 clips and highlight reels to two YouTube channels has to help as well. This video on 'How to Prevent the Spread of Germs', pulled from an episode that originally aired nearly 10 years ago, is quite apropos for these times.
US-based mobile carrier T-Mobile announced a new $15/month 2GB data plan ahead of its merger with Sprint, to position its lowest-priced option to consumers as a response to COVID-19 impact on incomes and the need to stay connected with family. The plan has access to YouTube Premium, and is stated to allow Internet browsing for 24 hours or consumption of 4 hours of standard definition video.

I compared this to Jio Platforms, India's large mobile carrier that is responsible for a lot of the growth of online video in the country and the country's rise to becoming YouTube's #1 market for daily active users. Jio was in the news in April for receiving a $5.7 billion minority investment from Facebook, and recently added $750 million more from US-based private equity firm Silver Lake Partners. Jio has a plan for $3.27/month, which is roughly the price that is the same percentage of the median income in the country as T-Mobile's plan is in the US. The difference though is T-Mobile offers consumers 2GB per month, while Jio offers consumers 2GB per day.

"Here we are in the midst of COVID-19 and what does Facebook do? It pivots in India and deploys $5.7 billion to make an investment," said Sir Martin Sorrell, former CEO of WPP and current executive chairman of S4 Capital. "You see the flexibility of the tech sector—whilst everyone else is looking at their boots, they are looking at the sky."