Can Creators Convert Billions of Views Into a Long-lasting Career?
Issue No. 4
When I was in middle school, around the age of twelve, I was watching public-access television at home and felt I could do better than what I was seeing on the screen. I soon discovered that I could produce and broadcast my own television show, and get access to expensive production equipment, provided I had someone over the age of eighteen sign a waiver at the television station. 
Though "Wayne's World" was gracing movie theater screens across America at the time, I was less inspired by the storyline from the Saturday Night Live sketch, and more intrigued that I could make whatever kind of show I wanted to, get access to an editor, and tell friends to tune into channel 30 at a set day and time to see what was created. 
Over a decade later, YouTube made it possible for millions of kids like me to broadcast themselves. The reach is far greater than the cable television system in my local Northern California community. 
In the last two issues, I started breaking down the five types of creators in the Creator Economy, starting with promoters and entrepreneurs. In these two categories, creators who are producing video content on a platform like YouTube are doing so as a secondary activity. Their primary activity is either to be paid to promote a product or service, or they are developing their own product, service or company. Online video is an effective brand marketing channel for the entrepreneurial creator. 
As a 12-year old, I was drawn to producing content as a primary activity, similar to the majority of creators today. The three types of creators who fit this criteria are artists & storytellers, educators, and opinion and information leaders. Just as you need skills to be a successful entrepreneur and business leader, there is skill and talent involved in the three types just mentioned. I want to do justice to each, so for this issue I am just going to dive into artists & storytellers. 
Lucas and Ryan
The first YouTube creator to cross the symbolic one million subscriber mark in April 2009 was Lucas Cruikshank. At the time, the 15-year old Nebraskan rose to popularity playing the role of Fred Figglehorn, a character Lucas originally portrayed in sixty videos on YouTube, and later in a TV show and feature films released on Nickelodeon in the U.S., and in cinemas in the U.K.
By August 2009, Cruikshank was dethroned as the most subscribed YouTuber by Ryan Higa. The Japanese-American from Hawaii produced sketch comedy and musical parodies with childhood friends. 
I recall in conversations with creators in 2012, Cruikshank's move to television and movies was cited not as a success, but a warning of what could happen when you take your eye off of YouTube. Cruikshank's channel stalled, as young viewers shifted their attention to creators like Higa, SMOSH, Jenna Marbles, The Fine Bros., and others who fed them a consistent diet of weekly comedy routines. Instead of YouTube being a stepping stone to a bigger career in other mediums, it was already viewed by some as the platform for long term creative investment. 
I never had immediate viewer feedback when I was producing the public-access television show, which I realize is both a blessing and a curse. Viewer feedback can either encourage you to keep going and hone your craft, or give up completely. The limitless programming shelf of YouTube did not mean a creator could just upload any half-baked sketch.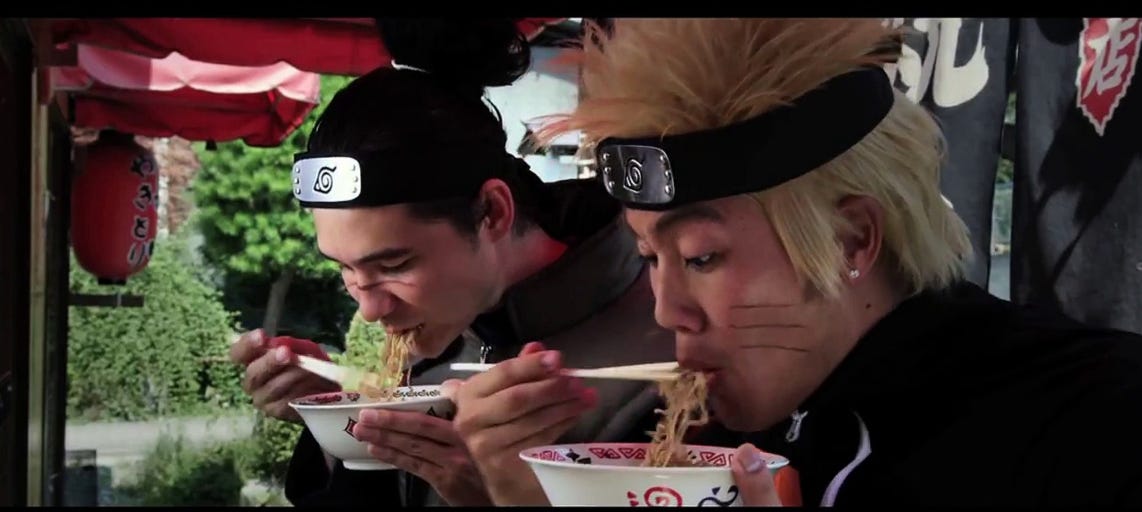 I saw first-hand when I worked with Ryan Higa in 2013 producing what was his most expensive production at the time, that viewer feedback and expectations played a large role in what he allowed to grace his channel. He nearly spiked the video and relegated it to his second channel, meant at the time to house less premium content. He valued and respected his viewers and fans, and would not compromise in the editing room. 
Instead of using YouTube as a path to a writer-performer cast role on Saturday Night Live, Ryan has maintained an audience over the past decade on a channel he executive produces with a team based outside of Las Vegas. SNL writers come and go, and television writers have the benefit of a writer's room and 10-episode series orders. 
Between 2017-2019, Ryan produced 650 minutes of comedy content (equivalent to three seasons of 10-episode half-hour television comedy) on his main YouTube channel, in addition to forty hours of podcast content. He has created content formats over the years, including "I Dare You", "Dear Ryan", and parody movie trailers. He averages 3.08 million views in a seven day window for new comedy episodes.
To put this into context, none of the Fall 2019 broadcast television comedy pilots in the U.S. had more than 2.5 million viewers in the 18-49 year old demographic. "Young Sheldon", currently in its third season on CBS, is the only television comedy to average three million viewers per episode in the 18-49 year old demo between Sep-Dec 2019. Ryan is in his "15th season" on YouTube, and still punching above his weight as a writer, director, and on-camera performer. 
It is no small feat to maintain an audience for as long as Ryan has done. I analyzed a single day of YouTube content, and found there were over 450,000 new videos uploaded from over 225,000 different accounts. If you are uploading comedy videos once a week, you are competing with over three million new videos, in addition to the millions that already exist on the platform. In that one day, nearly 2,500 new videos already surpassed 100,000 views, and just over fifty videos surpassed one million views in their first day on YouTube. 
"Young Sheldon" has CBS to buy advertising and remind fans of the show when new episodes are airing, and then sell advertising time against the show and find ways to commercialize the property via sponsorships and consumer products. Creators like Ryan need to cultivate viewers into fans, and fans into active subscribers -- sometimes all on their own. It is a struggle for one person to be the creative genius, the marketing wizard, and deft business hand. 
Several years ago, I brought Ryan to Singapore for a business meeting. Some local fans discovered what hotel he was staying at, and soon a crowd of thirty people gathered in the ground floor lobby to greet Ryan when he returned from his meeting. I observed two 20-something year old super fans purchase a room at the $350-a-night hotel, so they could separate themselves from the pack on the ground floor, and gain entry to the main lobby on level 26. What they sought was a chance for a more private encounter with Ryan, and they ultimately had just that when Ryan checked out and spent a minute taking photos and saying hello.
Music performers and stand-up comics have live shows, and the ability to segment fans by the price of the ticket for admission, or by offering premium meet & greet opportunities. After that episode in Singapore, I thought about how Ryan could recognize and capitalize on his fans and super fans, without being overtly commercial. His passion is storytelling, and not the idea of making and selling apparel, or crafting some clever sponsored video for a marketing client. How do you trade the reach and distribution to twenty million viewers on YouTube, and the effort that is involved to consistently reach this audience, with a separate amount of effort required to make more 'premium' content for a more 'premium' segment of the fan base? This is a give and take situation I have seen many creators struggle with over the years.  
In Google's latest earnings report, they broke out YouTube revenue for the first time. $15 billion in 2019 revenue. Via its partner program, YouTube would have paid out more than $8 billion in advertising revenue share to creators like Ryan. To generate $1 million in a year, you are competing for your 0.0125% slice of the pie. If you are reaching twenty million viewers in a month, to make $1 million in the year, you need to make $0.004 per viewer each month. Now if you could identify 1,000 super fans like the people in Singapore who dropped $350 on a hotel stay to have a one minute interaction, and reward them each month with quality comedy content, you are increasing your annual earnings four times. 
I am curious to see how many of the creators who have been at it for 15 years now are still active a decade from now, delighting fans with entertaining content. How much of their staying power in the next decade will come from finding new viewers and converting them to fans, or from doubling down on the existing fan base and super-serving them with unique content and experiences? 
TikTok Generation
I am also fascinated by emerging platforms like TikTok, and the creative canvas it offers people. Last year, Google and Facebook generated $39.6 billion in revenue from Asia Pacific. TikTok's parent company Bytedance was a key contributor to the revenue of both companies, as it spent aggressively to drive downloads and active users. The deep pockets of the parent company, and advanced product features in China that have yet to make it to the U.S., give me a strong feeling TikTok will not be going the way of Vine. 
Vine produced many of YouTube's top U.S. creators today. Liza Koshy, David Dobrik, Lele Pons, Rudy Mancuso, Logan and Jake Paul, are just some of the former Viners who catapulted to greater fame and fortune on YouTube, and are still at the beginning of their career as storytellers. Last month YouTube announced Liza Koshy's series "Liza on Demand" will return for a third season in September on YouTube Premium, and Rudy Mancuso has reportedly sold a project to Amazon Prime. Will TikTokers follow in their footsteps? 
The new platform's breakout star is 15-year old Connecticut native Charli D'Amelio. The platform first recommended her content to me in September when she was performing dance routines in her school bathroom, before she had yet to cross 500,000 followers and become the infatuation of most teenagers across the country. Today, that feels like a long time ago. 
Charli is prolific on TikTok, and her 30 million plus followers today is testament to her dedication to the platform. The dancer moved to home schooling, like many YouTubers before her, to enable her to maintain a steady upload schedule. In January, Charli posted 169 videos. That content has since amassed 4.02 billion views, 536 million likes, and 4.2 million comments. My estimate is she generated over 11 million watch hours from this content. Which is huge on any platform. 
She performed dance routines to 95 different music tracks in January, and has boosted awareness of Young Thug's 'Relationship' (7 videos, 275 million views), Roddy Ricch's 'The Box' (6 videos, 174 million views), and seems to have single handedly driven awareness of Brazilian artist Célia and her song Odavi that was sampled by Freddie Dredd (2 videos, 109 million views). In the first 22 days of February, Charli posted 89 videos and sampled 60 different music tracks. Kids are being introduced to Kesha, Avril Lavigne and Sean Paul, and to music tracks released ten to eighteen years ago. Charli is averaging 24 million views a video, and has single videos being shared over 600,000 times on the platform. 
A few days ago, Charli was in Milan modeling for Prada. This follows an appearance in Sabra's NFL Super Bowl television commercial, a collaboration with the Super Bowl half-time performer Jennifer Lopez, appearing on court at the NBA's All-Star game, and generating sponsored content for UNICEF and Paramount's "Sonic the Hedgehog" movie.
It is clear that major brands and sports leagues have woken up to the power of TikTok and creators like Charli. It is amazing to me how fast this has occurred. Four months from a school bathroom to a starring spot in a Super Bowl commercial. Will we see more of Charli's artistry in the months and years ahead? Her older sister is already parlaying TikTok fame into an acting role in a series on Brat TV. Charli no doubt has super fans who are ready to follow her next move from short-form dances to long form storytelling.    
Lastly …
While I started the cable access television show with a neighborhood friend, my most frequent collaborator in media ventures during middle school was my friend and classmate CJ MacDonald. In addition to co-producing shows for public-access television, CJ and I co-launched a "radio station" at school using its emergency broadcast system. I recall school administrators being surprised by our ability to raise nearly a thousand dollars from parents and local businesses so we could acquire a music catalog and offer prizes to listeners during call-in quiz shows. I'm not surprised to see CJ succeed today as an entrepreneur.


Joseph Gordon-Levitt's HitRecord platform is geared to help creators find collaborators, and connect their creative output with an audience. He spoke at TechCrunch's Disrupt SF last year, and called out YouTube and Instagram for their adherence to an advertising business model. HitRecord is one of a number of companies I am seeing try to create a better platform for creative artists and storytellers.


Billie Eilish's success at the Grammy Awards last month made me wonder when was the last time the album of the year was produced in a bedroom, and not a recording studio. She and her brother Finneas O'Connell found an audience on Soundcloud, and built a rabid fan base on Spotify and YouTube. Her music videos on YouTube have garnered up to 70 million unique viewers in a month. Her super fans are going to make her 2020 tour one of the highest grossing of the year. That should be inspiring to any aspiring teenage music artist. Quality output will find an audience, and you will be rewarded.