Can Creators Build the Next Unicorns?
Issue No. 3
Google Photos prompted me this week with one of those 'this day in ...' alerts on your mobile phone. It was a photo at the Great Wall of China from five years ago. I flew to Beijing to have a walk & talk meeting with Bethany Mota, then a 19-year old American teen coming off a year of immeasurable success, about the notion of being an entrepreneur and CEO of an enterprise. 
She and I first met in Tokyo two years prior, where I witnessed first-hand the extreme fandom for a YouTube creator that I have yet to experience at the same level since. Soon after the Japan trip, Bethany launched a clothing line in Dec 2013 with the retailer Aeropostale. Their management realized it was too limiting to just have Bethany promote their new releases. Better yet was the idea to design 25 original items with Bethany and launch under her eponymous label, and follow that up with a similar volume of items every quarter. 
In the Aeropostale Q4 2013 earnings call for Wall Street analysts, the company's executives were probed on the nature of their deal with Bethany. How long-term was the deal? What impact would it have on 2014 financials?
The executives said in that earnings call, "Our uniquely innovative Bethany Mota collection exceeded our expectations achieving very high sales, AURs, and margins. Bethany embodies what is new, now and next and we plan to grow our Bethany Mota collection by more than $50 million in sales."
The Bethany Mota line actually delivered over $80 million in 2014, and accounted for over 4% of the company's total revenue. Unfortunately she alone could not help the company overcome fundamental shifts underway in teen retail. Aeropostale eventually filed for bankruptcy in May 2016, and shed 600 (~70%) of its total retail store footprint in the U.S. market. 

Bethany Mota clothing line with Aeropostale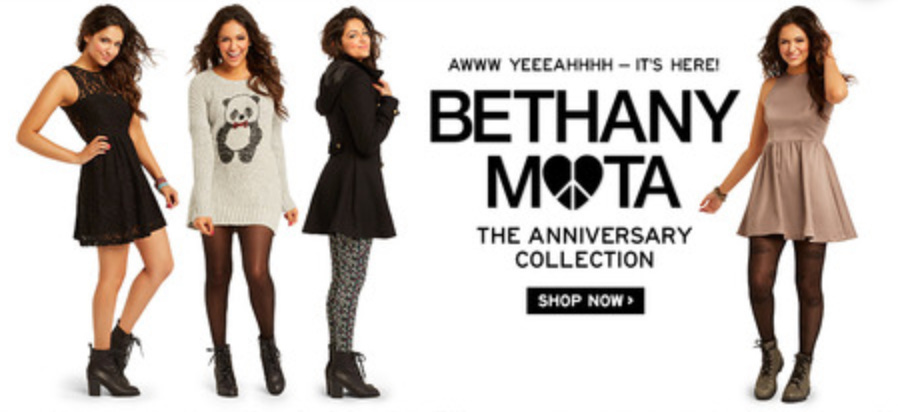 Bethany's journey reminds me a lot of an entrepreneur of an earlier generation: Kathy Ireland.
Kathy came to prominence before the dawn of the Internet. The Southern California native traded a job delivering newspapers for modeling at the age of 17, and soon after was gracing the pages of Sports Illustrated in its annual swimsuit edition. In 1989, when Kathy was 25-years old, she made the cover of the swimsuit edition in what has since become its top selling issue. 
Kathy was top of her game in 1989 like Bethany was top of her game 25 years later in 2014. I think Kathy had the benefit though of age and experience on Bethany. By the time she turned 30, Kathy launched kathy ireland Worldwide, and introduced a clothing line at Kmart in the U.S. market. Parallels of bankrupt retail partners aside, Kathy has overseen a company that by 2018 has grown to $2.6 billion in retail sales. There are over 50 people listed on LinkedIn as employed at kiWW. It is a proper company where Kathy is the CEO. She is someone I think of from time to time as a poster woman for the potential of young, entrepreneurially-driven creators who know how to maximize online video platforms for reach, engagement and loyalty, but have a larger business goal in mind. 
From cover model to successful entrepreneur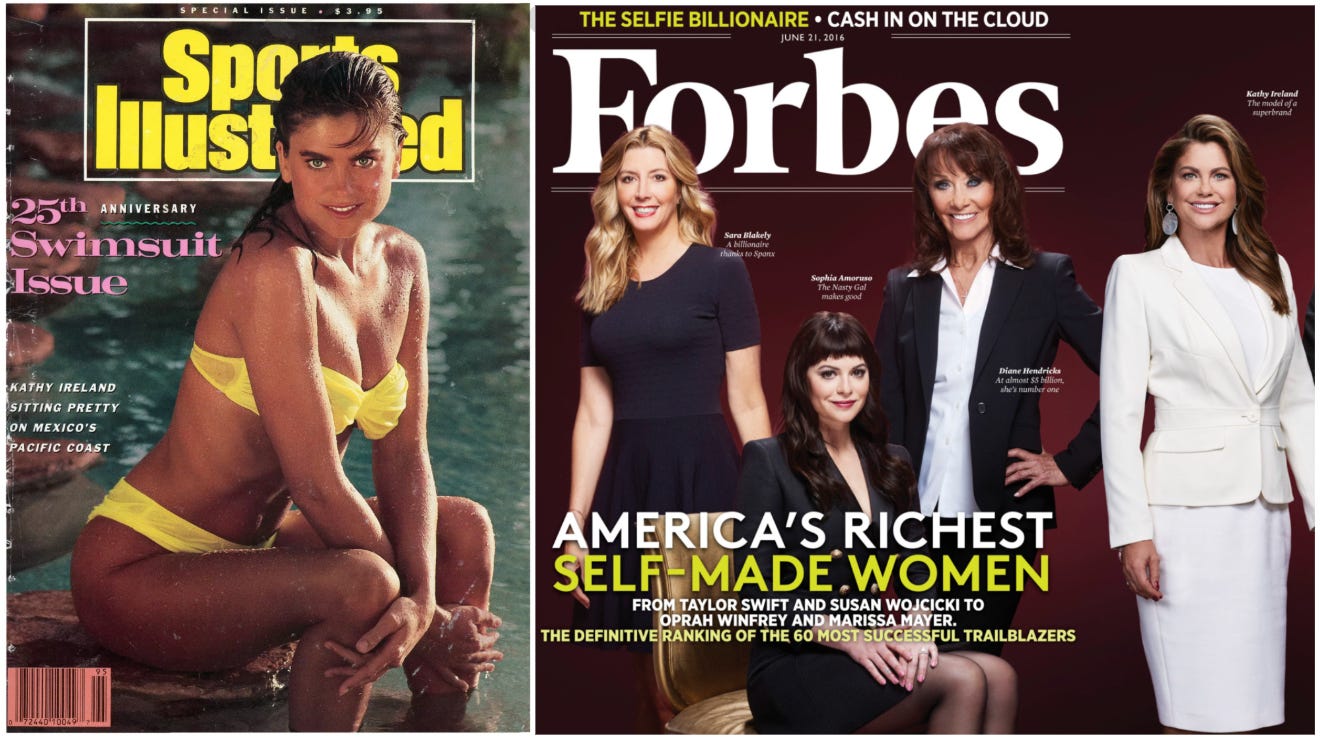 YouTube does not become a platform where over $10 billion in advertising is spent every year by accident, or for 'test purposes'. It drives results. Either for performance marketers or brand marketers. Creators on the platform do not need to merely influence or promote a product for another company. They can market their own brand and products. 
Cassey Ho made this distinction very clear to me. Cassey is a leading health & fitness creator on YouTube, but an entrepreneur at heart. YouTube was originally an outlet to extend the reach of her pilates classes that she was offering as an undergraduate student. She made compelling content. To the uninformed, she may look any other creator on the platform. What I learned from her, was that when her viewers enquired about the outfit she wore in her workout videos, she saw an opportunity to develop her own activewear line rather than promote some pre-existing brand. 
After boarding a flight to Guangzhou, China and attending the Canton Fair to meet garment manufacturers, Cassey worked out key elements of her supply chain and set herself on the path to launch a direct-to-consumer activewear line. Cassey's apparel brand became the foundation of her business. The advertising revenue earned from videos on YouTube was secondary. 
Another person whose entrepreneurial drive stuck out to me is Casey Neistat. Casey is a filmmaker and talented storyteller. His production techniques and application to the daily vlog (video blog) he launched in March 2015 raised the stakes for creators on YouTube. Casey's use of pre-production and b-roll footage was new and exciting. It was also a clever marketing channel for the startup Beme he founded in 2014. 
Casey told me years ago that the daily movies on his YouTube channel were a means to drive awareness and downloads of the Beme mobile app. Users could upload short videos under 10 seconds, similar to Vine at the time and what is prominent today with TikTok. Casey initially raised $2.6 million for Beme, and by 2016 had $6 million in total funding. By the end of 2016, CNN acquired Beme for a reported $25 million (I've since heard the actual number is higher). I think it is fair to say though that CNN acquired Beme to get access to Casey's storytelling prowess rather than the tech traction of Beme. CNN later shuttered the business by January 2018. 
In the past year, I have not seen any shortage of creators aspiring to create their own cosmetics line. Some creators really just want to promote a line and get paid for the advertising. Some consider they have established a personal brand and can license it to companies. Few are going to the extent of what Cassey did in apparel and getting into the nitty gritty of supply chain mechanics to have oversight of the end-to-end consumer experience. 
There were headlines in 2019 about Kylie Jenner selling a controlling stake of her cosmetics business to Coty, Inc. for $600 million, or Huda Kattan selling a minority stake of her cosmetics business to TSG Consumer Partners for $200 million. In both cases, the result was a billion dollar valuation for the enterprise. Unicorn status generally fetches headlines, and these two had no shortage of them in the year. 
I had a look at eBay to get a sense of the market. I studied sales data in Q4 2019 to gauge how these two businesses performed, and how they compare to other businesses established by YouTube creators. 
If someone is buying a product and trying to resell it on eBay, they are doing so with the belief that they can sell the product for more than they paid. They also have the belief there is demand in the market for that product. I find this a good way to assess the traction of a product. Sales volume has little to do with the 'influence' of the creator, since they are not driving consumers to purchase products on a reseller platform like eBay. 
Kylie and Huda do well on eBay, but there are others who do better. 
Jeffree Star launched his cosmetics business in November 2014. He was referenced in a previous issue of this newsletter as a top earning YouTube creator. In December he closed on a $14.58 million 21k square foot home in Hidden Hills, California. He's doing well. Not because of YouTube advertising revenue. It is the cosmetics business. 
On November 1, 2019, Jeffree launched The Conspiracy Collection with top YouTube creator Shane Dawson. 20 SKUs ranging in price from $18 to $52, and product bundles priced between $90 and $210. 
eBay sales spiked on November 1. $180,324 in sales that day. Product bundles were selling for $750. It is clear there was consumer demand for Jeffree's product line. 

The Conspiracy Collection with Shane Dawson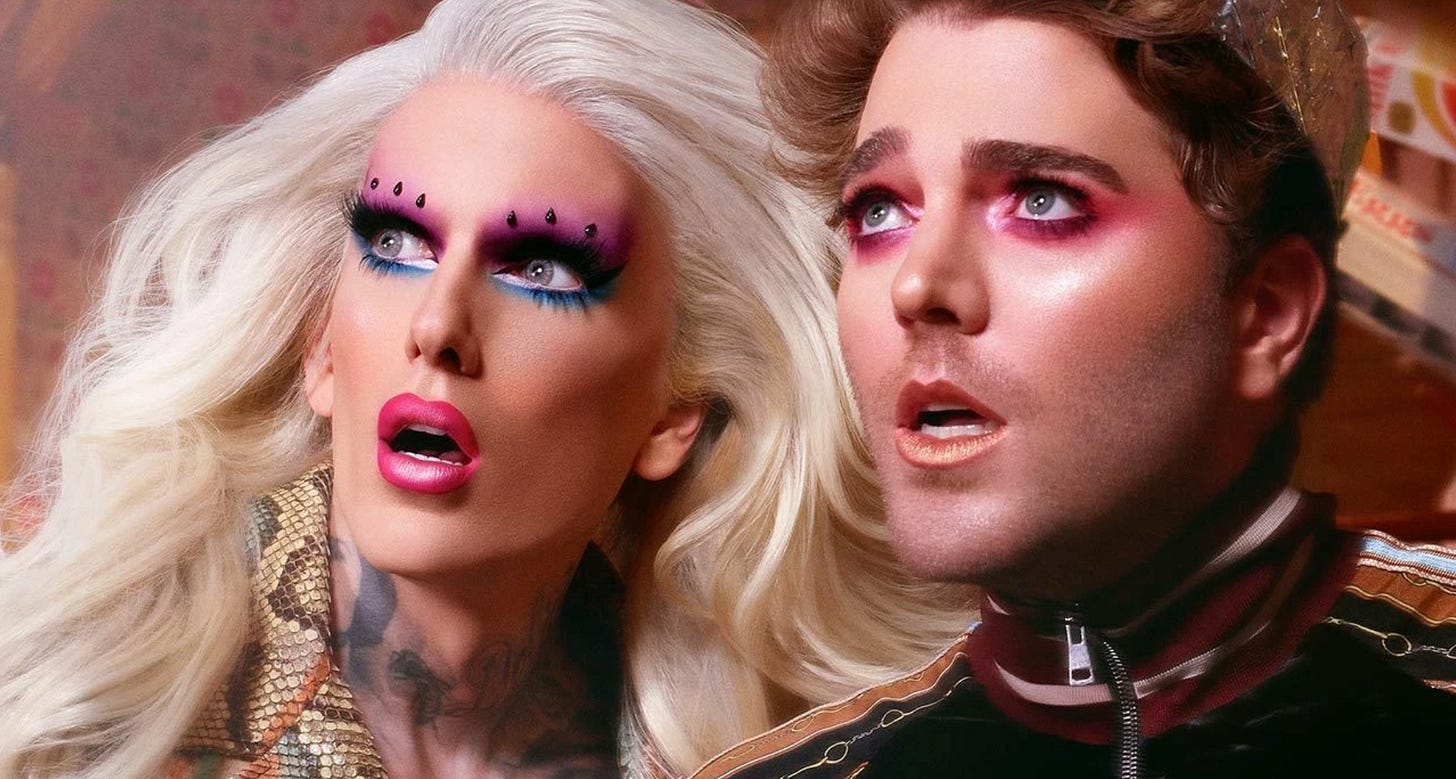 Here is a table of data I compiled for eBay sales across Oct 1 - Dec 31, 2019: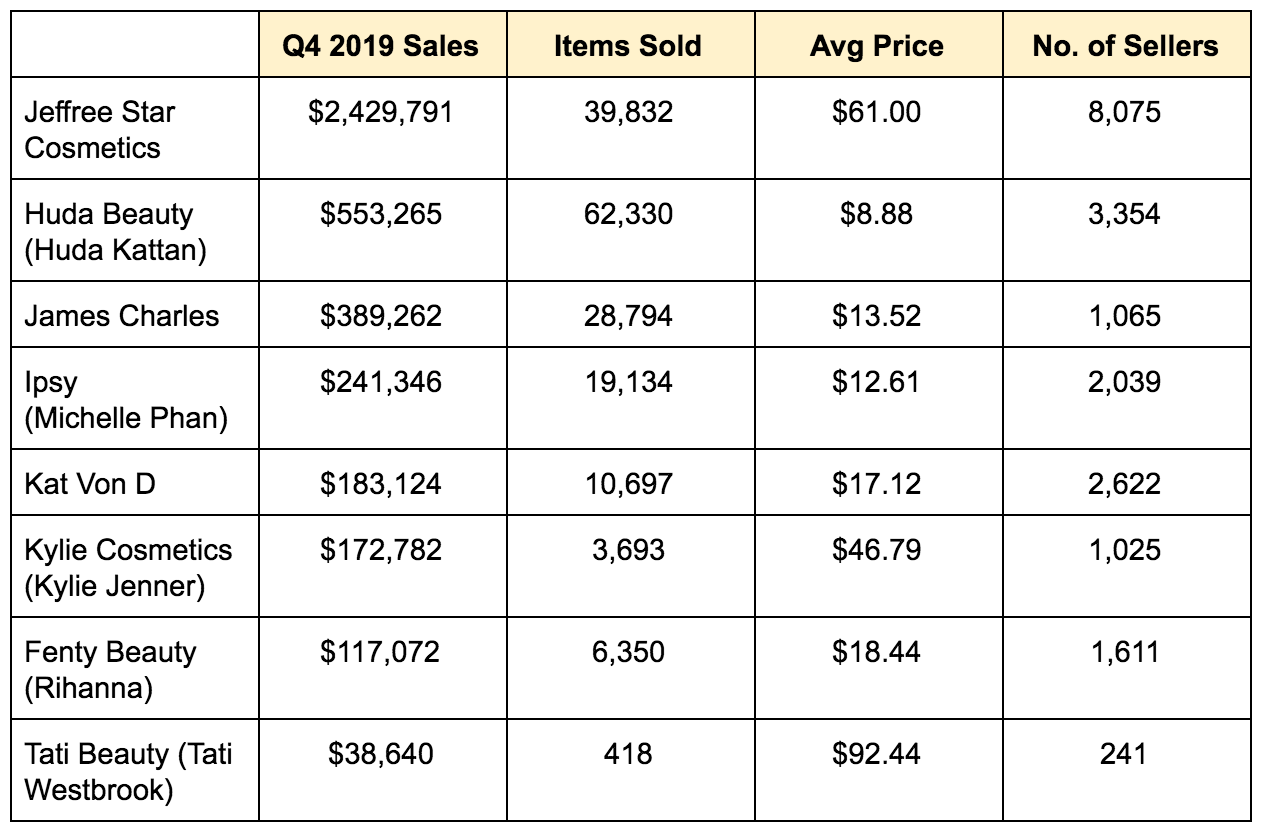 Others with <$5k in sales: Manny Mua, Jaclyn Hill, Patrick Starr, Jackie Aina, Nikita Dragun
Jeffree's products generated 4 to 14 times more sales than the unicorn-valued businesses from Kylie and Huda. If eBay is any indicator of broader market demand and sales data, I feel Jeffree Star Cosmetics will be the company you read this year having secured a $200 to $500 million plus capital injection or buyout, and overall unicorn status. 
I also would not underestimate Shane Dawson. He is a prolific documentarian, using his platform on YouTube to distribute compelling and widely accessible profiles of creators like Jeffree, Jake Paul and Tana Mongeau. 
60-percent of Jeffree's overall eBay sales in Q4 2019 were tied to his collaboration with Shane. 56-percent of the collaboration-based items on eBay were listed 'Shane x Jeffree' as opposed to 'Jeffree x Shane', suggesting eBay sellers placed Shane's market demand in high regard. 
Jeffree's cosmetics sales on eBay are also impressive when stacked against industry upstarts. His sales volume was 280-percent greater than Too Faced Cosmetics, the brand Estee Lauder acquired in December 2016 for $1.45 billion. His sales volume was 403-percent greater than Utah-based direct-to-consumer beauty company Younique. Coty, Inc., the acquirer of Kylie's business, purchased 60-percent of the company in February 2017 for $610 million.  
The comparison against industry stalwarts is also compelling. 223-percent more sales than NYX Professional Makeup, 33-percent more than Revlon. 17-percent more than L'oreal. He only trailed Lancome and Clinique. 
What Kathy Ireland has shown me is that this is a marathon, and it is not a sprint. Jeffree's overall sales, and not just those I can see in the reseller market, are sure to be very impressive. If managed well, Jeffree Star Cosmetics will be a brand that is still being purchased by consumers decades from now. 
Lastly …
In the next issue, I plan to dig into the artist & storyteller category of creators. One creator who I find has done a fine job straddling being an entrepreneur and artist is Jack Conte.
In May 2013, when Jack was releasing awesome music videos like Pedals that relied on a 10-person crew to pull off, he was also launching Patreon. He struggled to recoup his investment writing, directing and producing original music on YouTube, so he created Patreon as a way to let fans like me become patrons. I pledged $10 at the time, and expected to be charged this amount for every new video Jack uploaded to his YouTube channel. I have yet to see an invoice. 
The primary reason why is because Jack put creating videos on his YouTube channel aside, and focused on being a founder and CEO of Patreon. He flexed those entrepreneurial muscles. Investors have not shied away from backing his vision. Over the course of six financing rounds, Jack has raised a total of $167 million, and is on his way to unicorn status. 
Last month, I managed to see Jack put his right brain to work. He fronts the band Pomplamoose with his wife Nataly Dawn, and was in Los Angeles for a gig. He owned the stage, and effortlessly moved from keyboards, to drums, to electric bass.